Facilities
Main Content
The Sharp Museum occupies the first floor of the north wing of Faner Hall. This multipurpose building, in addition to the Museum, houses primarily the College of Liberal Arts. Completed in 1974, Faner Hall is an award-winning design in the "brutalism" architectural style popular in the mid to late 20th Century. The Sharp Museum has 10,000 square feet of exhibition space in two halls, North and South.
You are invited to take this online tour of the facilities. We hope that you will then visit the Sharp Museum to enjoy the full effect of what is offered.
CONTINUUM GALLERY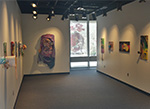 An exhibit space for collaborative Museum projects, this gallery usually features works by area high school students. The space was designed to showcase the Museum's outreach to Southern Illinois. 
NORTH HALL, MITCHELL GALLERY
The Museum is divided into two major areas on either side of a central lobby, the North Hall and South Hall galleries. The North Hall includes the Mitchell Gallery, a 2,500 square foot premiere gallery space overlooking the Museum's Sculpture Garden and home to many of the Museum's exciting art exhibits.
SOUTH HALL
South Hall is comprised of several galleries with movable, temporary partitions to allow for maximum flexibility in presenting the many changing exhibits on the Museum's busy schedule.
THE INTERNATIONAL GALLERY
The International Gallery was designed to showcase objects from the Museum's outstanding world cultures' collection. These ethnographic displays usually change twice a year.
THE STUDY GALLERY
The Study Gallery features works from the Museum's collection selected by faculty for their classes. This gallery changes in the fall and spring semesters.
SOUTH ONE AND TWO GALLERIES
South One and South Two are changing exhibits galleries. A wide variety of exhibits are featured year-round.
THE HALL OF ART
The Hall of Art features changing exhibits featuring the Sharp Museum's permanent collection of art.
THE SOUTHERN ILLINOIS GALLERY
The gallery features the history of Southern Illinois region from pre-historic to the present.
THE CARL L. LUTES GALLERY
The Carl L. Lutes Gallery showcases Mr. Lutes personal collection of Renaissance and later furniture, tapestries and works of art.
SCULPTURE GARDEN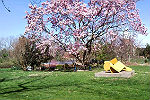 The Sharp Museum boasts a beautiful outdoor sculpture garden on the west side of the very northern end of Faner Hall, just outside the Mitchell Gallery. Artists represented in the garden include Aldon Addington, Richard Hunt, Dan Johnson, and Ernest Trova. Also in this location is the lovely Japanese Garden, the Kumakura Garden, and the Dorothy Morris Garden.
ATRIUM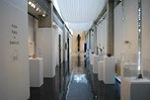 Connecting the Mitchell Gallery and the Continuum Gallery to the central lobby is the 120-foot long, two-story Atrium Gallery. This dramatic space frequently displays sculptures from the Museum's excellent collection of 20th Century sculpture as well as changing exhibits by visiting artists.